This afternoon I was watching the 1936 MGM production Tarzan Escapes (starring ex-Olympian Johnny Weissmuller and mother-to-Mia-Farrow Maureen O'Sullivan) when, in among all the B-roll of African wildlife, I caught a strange interlude (YouTube):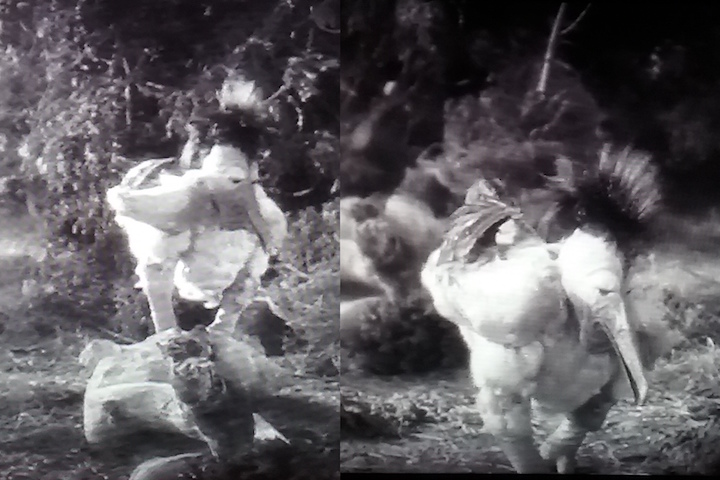 You can tell immediately that this bird-like creature isn't altogether natural. It's definitely… something… dressed up in a costume. But something about its swaying gait looks awfully familiar. Is that… no, it couldn't be…
Yes! That is Johnny Eck, of Freaks (1932), randomly dressed up in a bird suit in this Tarzan movie!
ERBzine issue 0618 (that's "ERB" as in "Edgar Rice Burroughs", of course) explains:
In almost every one of the Johnny Weissmuller Tarzan films, there's a trek up the treacherous cliffs that lead to the escarpment […] Quite often, they use library footage, or second-unit sequences to show the local wildlife. There's a lot of recycling in these films, with action scenes and shots of Tarzan swinging through the trees (performed by a trapeze artist in some cases) appearing repeatedly. […]

Yes, the bird is actually a bloke in a costume. Not just any bloke — that's Johnny Eck, "half-man" sensational star of Freaks (1932). Having looked up this moment, I was surprised to find that it was itself used in the first Weissmuller Tarzan film, Tarzan the Ape Man (1932). Had I not noticed it? Why did they choose to slip in this surreal moment, dressing up a human actor for one of the animals? […]

I suspect the answer is that they did it because they could. The footage was shot during the making of Freaks, another MGM production, that would eventually be released a month before Tarzan the Ape Man […]

After Freaks, Eck was featured as a bird creature or "Gooney Bird" in three Tarzan movies: Tarzan the Ape Man (1932), Tarzan Escapes (1936) and Tarzan's Secret Treasure (1941).
Finally, buried in the middle of the ERBzine article is a funny little story about Johnny Eck that I'd never known before.
He and brother Robert travelled the country with magician Rajah Raboid's "Miracles of 1937" show, in which they were part of the sawing-in-half illusion. The act involved Rob being called out of the audience as a volunteer for a magician's trick, and climbing into the box, but it was legless Johnny who emerged from it. A midget acting as Johnny's legs would then run offstage, chased by Johnny.
By all accounts, this startling act produced screams and fainting.
Catch Johnny Eck in the bird suit when Turner Classic Movies next plays Tarzan's Secret Treasure, on 2018-04-07 at 7:00 AM Pacific.
Posted 2018-03-24